Hiking Trails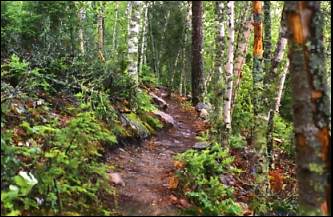 White Pine self guiding trail
On Provincial Road 312, just past Green Bay Resort. This 2.8 km trail winds down the Whiteshell River and loops back. This is a transition zone between the Boreal Forest and the Great Lakes/St Lawrence Forest. Along this trail you will see Jack Pine, Trembling Aspen, Juniper, White Spruce, Black Spruce, White Cedar, Black Ash, Balsam Fir, White Birch and Eastern Pine. This novice hike takes two hours.
McGillivray Falls self guiding trail
On Highway 44 between the Lilly Pond and the Caddy Lake campground. This 4.6 km trail will lead you through a small drainage basin typical of the Precambrian Shield and found throughout the park. A shortcut reduces the length of the trail to 2.4 km before it reaches McGillivary Lake. This intermediate hike takes three hours.
The South Whiteshell Trail
This hike, bike and ski trail is a part of the Trans Canada Trail. The 14 km section between West Hawk Lake and Falcon Lake is complete. It runs between the Nite Hawk Cafe parking lot in West Hawk to the field behind the school in Falcon.
Hunt Lake hiking trail
At the very end of Highway 44, just past West Hawk Lake. This 12.6 km trail leads north along the east shore of West Hawk Lake to Little Indian Bay. It returns on the same path. This intermediate hike takes three hours.
Falcon Creek self guiding trail
Off the Trans Canada Highway near the Falcon Lake Riding Stables. This 2.2 km trail reveals clues that glaciers once covered this land; rocks and boulders are scattered randomly from the the receeding ice. One sees the effects of a forest fire, as well. This novice hike takes one hour.